RavenDB Cloud now supports HIPAA accounts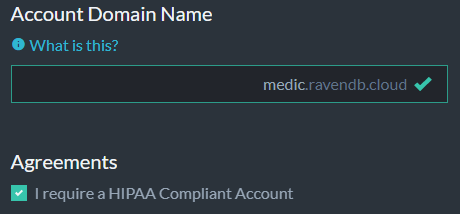 RavenDB Cloud is now offering HIPAA Compliant Accounts.
HIPAA stands for Health Insurance Portability and Accountability Act and is a set of rules and regulations that health care providers and their business associates need to apply.
That refers to strictly limiting access to Personal Health Information (PHI) and Personally Identifying Information (PII) as well as audit and security requirements. In short, if you deal with medical information in the states, this is something that you need to deal with. In the rest of the world, there are similar standards and requirements.
With HIPAA compliant accounts, RavenDB Cloud takes on itself a lot of the details around ensuring that your data is stored in a safe environment and in a manner that match the HIPAA requirements. For example, the audit logs are maintained for a minimum of six years. In addition, there are further protections on accessing your cluster and we enforce a set of rules to ensure that you don't accidently expose private data.
This feature ensures that you can easily run HIPAA compliant systems on top of RavenDB Cloud with a minimum of hassle.
Woah, already finished? 🤯
If you found the article interesting, don't miss a chance to try our database solution – totally for free!
Try now